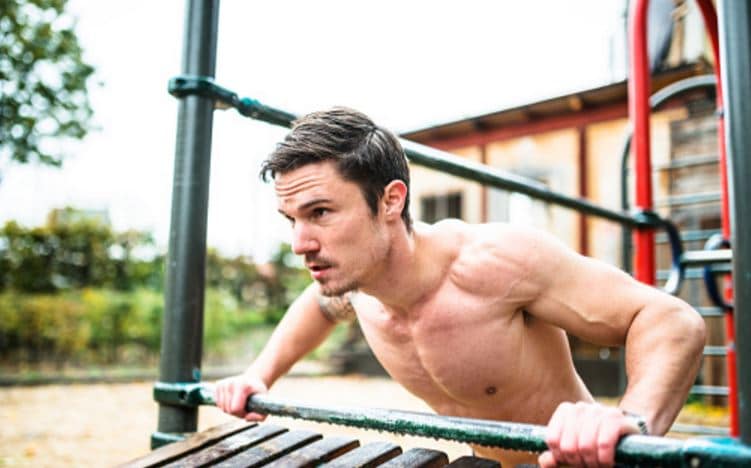 If you're the type of individual, who wants to lose weight and get into shape, you'll agree that the process is much easier said than done.
In fact
You've probably already felt the desire to give up at some point or another.
This is why it is pertinent to keep yourself focused and motivated enough to stick with your routine.
Although
There are various ways to maintain your dedication to the cause; most experts will agree that utilizing a pre-workout supplement can be incredibly helpful.
The Mr. Hyde Pro Workout Supplement can give you the energy and motivation needed to head to the gym on days when you're dead tired and ready to give up.
What makes it such a great pre-workout powder? 
You'll find out below!
Contents And Overall Value
When examining a pre-workout supplement, you should make sure that your selected variety would fit into your budget.
When initially looking at Mr. Hyde, you will find that the bottle contents are lower than the alternatives.
The bottle only contains 7.4 ounces of powder. This may cause you to believe that the bottle won't last longer than a few days, but this couldn't be further from the truth.
Unlike the alternatives, Mr. Hyde powder is ultra-concentrated.
This helps to ensure that you can consume less of the powder and still receive the benefits that you desire!
Despite being only 7.4 ounces, Mr. Hyde delivers 30 servings for a bottle, lasting for a month or longer.
For the price and thanks to this product's performance, it could easily be labeled a steal!
Thermogenic
If you've ever utilized a thermogenic supplement, you'll know that these products can burn you up and make you sweat like crazy.
Although Mr. Hyde falls into this category, it'll make you sweat and burn additional calories, but it won't make you feel overly hot and uncomfortable.
 Instead
The product will help you remain focus and motivated while also helping you burn an increased amount of calories.
Once your workout has concluded, the product's thermogenic properties will help ensure that you've already lost sufficient water weight.
Intense Energy And Focus
There are many powerful pre-workouts on the market, but few can stack up to Mr. Hyde. This is the case because the product is immensely more powerful than anything else on the market. The majority of people will not be able to consume an entire scoop of Mr. Hyde! The product is so powerful that those new to pre-workouts should start with a quarter or a half scoop, so they do not overdo it. Once you've finished the entire contents, the Mr. Hyde pre-workout supplement will begin to take ahold, and it'll remain with you until your workout has fully concluded.
L-Leucine
Mr. Hyde contains a high content of L-Leucine, which is an essential amino acid.
As you probably already know, amino acids are the building blocks of protein.
While you can get a substantial amount of this amino acid from meat, eggs, soy, lentils, and dairy products, it will be nearly impossible to consume enough of each food to be beneficial.
Not only will L-Leucine help main muscle mass while undergoing an extreme weight loss program, but it can also prove to be beneficial for recovery.
Strenuous workouts can take their toll on your muscles, so it is important to use a pre-workout supplement with L-Leucine.
Cycling On and Off
Pre-workout supplements are just like any other type of medication, in that you can grow a tolerance to them.
To receive the full effects of Mr. Hyde, you should consider cycling on and off it.
This means that you should use it for several months and then stop for 5-7 days. 
This will give your body time to recover, so you will gain the maximum results when you restart.
Actually
It would help if you considered doing this with all of your workout supplements since cycling has proven to be a very effective method utilized by professional bodybuilders and athletes.
Pros
Very affordable, and a single bottle can be used for a month or longer
The powder is ultra-concentrated and incredibly powerful
Super powerful and most won't be able to stand a full scoop
Tastes surprisingly good, and most will be able to tolerate it
Can last for the duration of your workout
Delivers massive pumps, intense focus, and unparalleled energy
Makes you sweat profusely for more weight loss
Cons
Might be too intense for newbies
Overall Assessment
Pro Supps Mr. Hyde is a very effective pre-workout supplement.
It is recommended
To consume the contents 20-30 minutes before your workout, to give it time to kick in.
If this is the first time using Mr. Hyde, you should start taking half a dose and eventually work your way up to the full amount.
This is an unbeatable pre-workout that will stimulate your energy level and prevent muscle breakdown.
The Best Price
ProSupps Mr. Hyde Intense Energy Pre Workout Pikatropin
The potent combination of high-powered thermogenic compounds
L-Citrulline and Leucine to prevent muscle catabolism
Three-stage energy blend
Skin tearing pumps
Focus and power